Chegou o grande dia! Rola logo mais à noite, direto do MGM Grand Garden Arena, em Las Vegas, o Billboard Music Awards 2019, premiação que contempla os artistas de melhor desempenho nas paradas de sucesso do último ano. Pela segunda vez consecutiva, a diva Kelly Clarkson é a anfitriã do prêmio e nos brindará com todo seu talento e bom humor no comando da cerimônia.
Na edição deste ano, a rapper Cardi B liderou com 21 nomeações na premiação, enquanto Drake e Post Malone também apareceram com 17 menções cada um. Já Ariana Grande concorre em 9 categorias, incluindo "Top Artist" e "Top Female Artist". Nesta última inclusive, ela disputa o prêmio com Taylor Swift, que também foi indicada como "Top Touring Artist".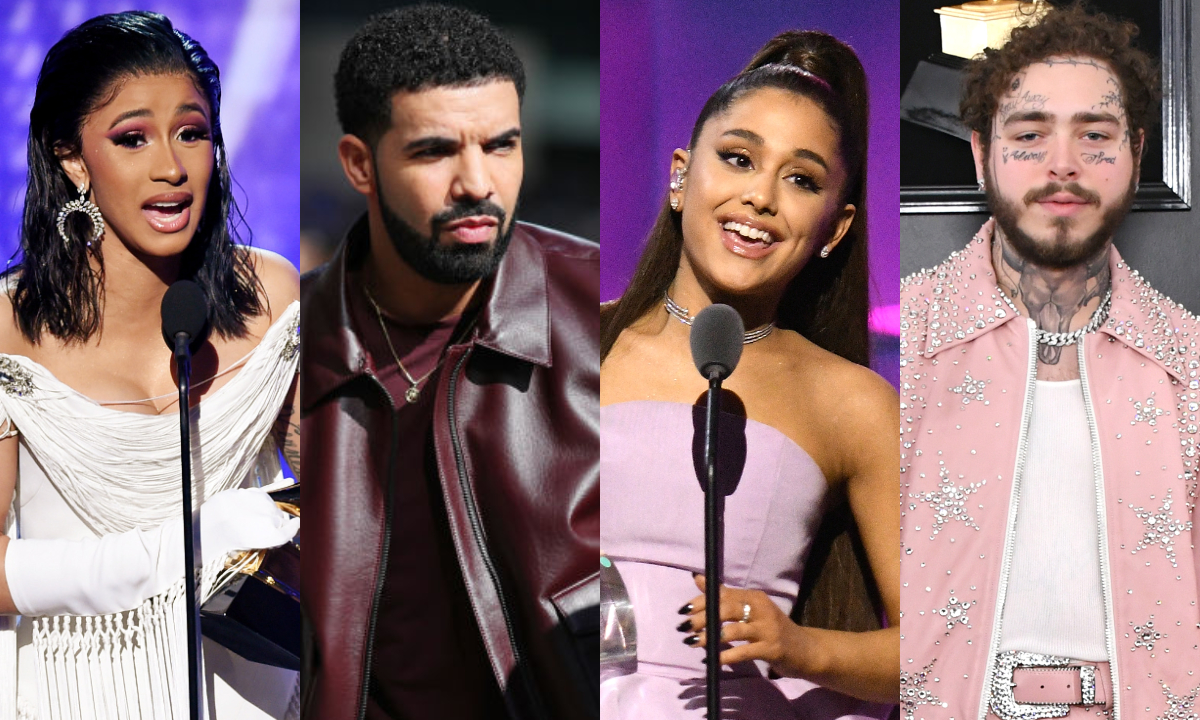 Na categoria "Top Social Artist", temos uma briga de gigantes! Os nomes do K-Pop dominaram! Além dos meninos do BTS, que venceram no ano anterior (e neste concorrem a mais um troféu como "Top Duo/Group"), os grupos sul-coreanos EXO e GOT7 também apareceram na lista, disputando com Ariana Grande e Louis Tomlinson. Vale lembrar que quem define o vencedor desse troféu é o público, através de votação na Internet.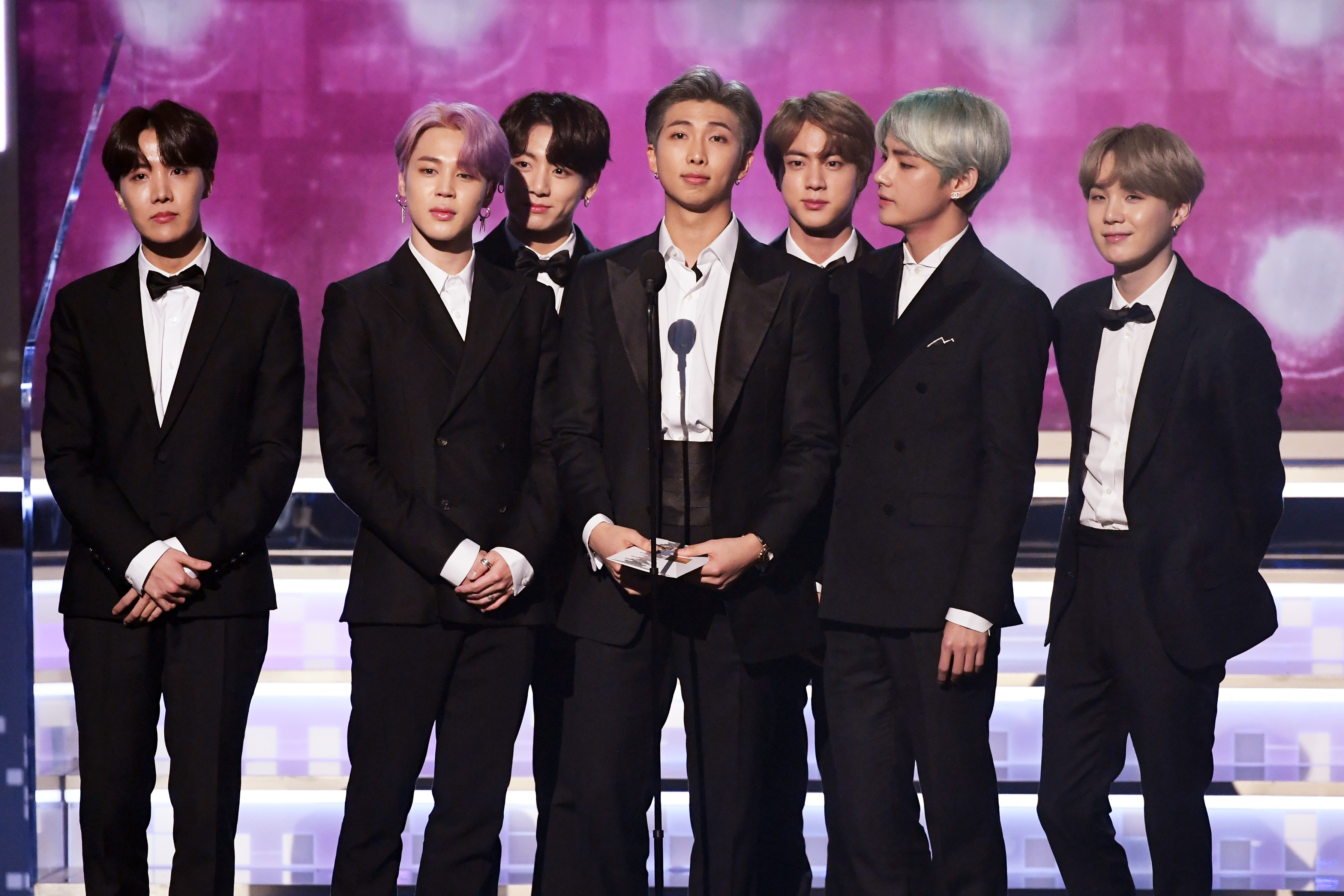 De acordo com a premiação, os finalistas das mais de 50 categorias são determinados com base em interações com fãs, vendas de álbuns e músicas digitais, transmissão de rádio, streaming, turnês e engajamento social. É claro que o desempenho nos gráficos da Billboard também tem um papel importante para a indicação. Em 2019, os prêmios são baseados no período que abrange de 23 de março de 2018 a 7 de março de 2019.
Continua depois da Publicidade
Para deixar vocês por dentro de tudo que vai rolar, vamos àquela nossa lista básica:
O quê? Billboard Music Awards 2019
Quando? Quarta-feira , 1º de maio! (HOJE!)
Que horas começa? Às 21h (Horário de Brasília) com transmissão pela TNT Séries!
E o Red Carpet? Começa a partir das 19h (horário de Brasília), com transmissão do canal E! e você poderá conferir TUDO em nossas redes sociais.
Tem streaming? Sim!
Tune into the @BBMAs red carpet LIVE right now! #BBMAs https://t.co/FPsgtgHaqA

— billboard (@billboard) May 1, 2019
Quem apresentará os prêmios?
Asher Angel, Becky G, Chrissy Metz e Justin Hartley, Cobie Smulders, Dave Bautista e Kumail Nanjiani, David Guetta, Erin e Sara Foster, Eva Longoria, Flórida Georgia Line, Jennifer Hudson, Jesse Spencer, Julia Michaels, Julianne Hough, Kane Brown, Olivia Wilde, Beanie Feldstein e Kaitlyn Dever, Ralph Macchio, Rob Gronkowski, Ross Lynch e Kiernan Shipka, Sabrina Carpenter, Sophie Turner e Tye Sheridan, Terry Crews e William Zabka.
Quem está na lista de performances?
Taylor Swift e Brendon Urie abrirão a cerimônia do Billboard Music Awards 2019 com o novo single da cantora "ME!";
Madonna e Maluma farão a primeira performance de "Medellín";
Ariana Grande subirá ao palco para uma apresentação do hit "7 Rings";
BTS e Halsey se apresentarão com a música "Boy With Luv", mas a cantora voltará ao palco sozinha para cantar a ótima "Without Me";
Jonas Brothers tocará o novo hit "Sucker";
Ciara fará o debut do novo single "Thinkin Bout You";
Lauren Daigle, Khalid, Panic! At The Disco, Kelly Clarkson, Dan + Shay, Tori Kelly e Paula Abdul completam a lista.
Sem falar de Mariah Carey, que será homenageada com o prêmio Icon Award, e também cantará um medley dos hits de sua carreira.
Os maravilhosos Sam Smith e Normani se apresentariam na premiação, mas, devido a problemas de saúde nas cordas vocais do cantor, eles precisaram cancelar. Em sua conta no Twitter e no Instagram stories, Normani contou que também se sentia magoada com toda a situação e aproveitou para esclarecer para os fãs que não iria apresentar "Dancing with a Stranger" sem o parceiro.
"As notícias de hoje sobre o cancelamento da performance realmente me decepcionam, como sei que isso decepciona vocês. Eu tenho os fãs mais incríveis e leais que existem e eu absolutamente odeio dizer que infelizmente não vou conseguir seguir em frente no Billboard Music Awards de 2019. Estou de coração partido", disse.
Quem são os indicados?
Top Artist
Cardi B
Drake
Ariana Grande
Post Malone
Travis Scott
Top New Artist
Bazzi
Juice WRLD
Lil Baby
Dua Lipa
Ella Mai
Billboard Chart Achievement Award
Dan + Shay
Drake
Ariana Grande
Lady Gaga & Bradley Cooper
Dua Lipa
Top Male Artist
Drake
Post Malone
Travis Scott
Ed Sheeran
XXXTENTACION
Top Female Artist
Cardi B
Ariana Grande
Halsey
Ella Mai
Taylor Swift
Top Duo/Group
BTS
Dan + Shay
Imagine Dragons
Maroon 5
Panic! At The Disco
Continua depois da Publicidade
Top Billboard 200 Artist
Drake
Ariana Grande
Post Malone
Travis Scott
XXXTENTACION
Top Hot 100 Artist
Cardi B
Drake
Ariana Grande
Juice WRLD
Post Malone
Top Streaming Songs Artist
Cardi B
Drake
Ariana Grande
Post Malone
XXXTENTACION
Top Song Sales Artist
Drake
Ariana Grande
Imagine Dragons
Lady Gaga
Post Malone
Top Radio Songs Artist
Cardi B
Drake
Ariana Grande
Maroon 5
Post Malone
Top Social Artist
BTS
EXO
GOT7
Ariana Grande
Louis Tomlinson
Top Touring Artist
Beyoncé & JAY-Z
Bruno Mars
Ed Sheeran
Taylor Swift
Justin Timberlake
Top R&B Artist
H.E.R.
Khalid
Ella Mai
The Weeknd
XXXTENTACION
Top R&B Male Artist
Khalid
The Weeknd
XXXTENTACION
Top R&B Female Artist
H.E.R.
Ella Mai
Queen Naija
Top R&B Tour:
Beyoncé & JAY-Z
Childish Gambino
Bruno Mars
Top Rap Artist
Cardi B
Drake
Juice WRLD
Post Malone
Travis Scott
Top Rap Male Artist
Drake
Post Malone
Travis Scott
Top Rap Female Artist
Cardi B
City Girls
Nicki Minaj
Top Rap Tour
Beyoncé & JAY-Z
Drake
Travis Scott
Top Country Artist
Jason Aldean
Kane Brown
Luke Combs
Dan + Shay
Florida Georgia Line
Top Country Male Artist
Jason Aldean
Kane Brown
Luke Combs
Top Country Female Artist
Maren Morris
Kacey Musgraves
Carrie Underwood
Top Country Duo/Group
Dan + Shay
Florida Georgia Line
Old Dominion
Top Country Tour
Luke Bryan
Kenny Chesney
Shania Twain
Top Rock Artist
Imagine Dragons
lovelytheband
Panic! At The Disco
Queen
twenty one pilots
Top Rock Tour
Elton John
The Rolling Stones
U2
Top Latin Artist
Anuel AA
Bad Bunny
J Balvin
Ozuna
Romeo Santos
Top Dance/Electronic Artist
Calvin Harris
Kygo
Marshmello
ODESZA
The Chainsmokers
Continua depois da Publicidade
Top Christian Artist
Cory Asbury
Lauren Daigle
for KING & COUNTRY
Hillsong Worship
MercyMe
Top Gospel Artist
Kirk Franklin
Koryn Hawthorne
Tori Kelly
Tasha Cobbs Leonard
Marvin Sapp
Top Billboard 200 Album
Cardi B "Invasion of Privacy"
Drake "Scorpion"
Post Malone "beerbongs & bentleys"
Travis Scott "ASTROWORLD"
XXXTENTACION "?"
Top Soundtrack
"13 Reasons Why: Season 2"
"A Star is Born" by Lady Gaga & Bradley Cooper
"Bohemian Rhapsody" by Queen
"Spider-Man: Into the Spider-Verse"
"The Greatest Showman"
Top R&B Album
Ella Mai "Ella Mai"
H.E.R. "H.E.R."
Khalid "American Teen"
The Weeknd "My Dear Melancholy,"
XXXTENTACION "17"
Top Rap Album
Cardi B "Invasion of Privacy"
Drake "Scorpion"
Post Malone "beerbongs & bentleys"
Travis Scott "ASTROWORLD"
XXXTENTACION "?"
Top Country Album
Jason Aldean "Rearview Town"
Kane Brown "Kane Brown"
Luke Combs "This One's For You"
Dan + Shay "Dan + Shay"
Carrie Underwood "Cry Pretty"
Continua depois da Publicidade
Top Rock Album
Dave Matthews Band "Come Tomorrow"
Imagine Dragons "Origins"
Mumford & Sons "Delta"
Panic! At This Disco "Pray For The Wicked"
twenty one pilots "Trench"
Top Latin Album
Anuel AA "Real Hasta la Muerte"
Bad Bunny "X 100PRE"
J Balvin "Vibras"
Maluma "F.A.M.E."
Ozuna "Aura"
Top Dance/Electronic Album
Clean Bandit "What Is Love?"
David Guetta "7"
Kygo "Kids in Love"
Major Lazer "Major Lazer Essentials"
The Chainsmokers "Sick Boy"
Continua depois da Publicidade
Top Christian Album
Cory Asbury "Reckless Love"
Lauren Daigle "Look Up Child"
for KING & COUNTRY "Burn The Ships"
Hillsong Worship "There Is More"
Zach Williams "Chain Breaker"
Top Gospel Album
Snoop Dogg & Various Artists "Snoop Dogg Presents Bible of Love"
Aretha Franklin "Gospel Greats"
Koryn Hawthorne "Unstoppable"
Tori Kelly "Hiding Place"
Jonathan McReynolds "Make Room"
Top Hot 100 Song
Cardi B, Bad Bunny & J Balvin "I Like It"
Juice WRLD "Lucid Dreams"
Maroon 5 ft. Cardi B "Girls Like You"
Post Malone "Better Now"
Travis Scott "SICKO MODE"
Top Streaming Song (Audio)
Cardi B, Bad Bunny & J Balvin "I Like It"
Juice WRLD "Lucid Dreams"
Post Malone "Better Now"
Travis Scott "SICKO MODE"
XXXTENTACION "SAD!"
Top Streaming Song (Video)
Drake "In My Feelings"
Juice WRLD "Lucid Dreams"
Maroon 5 ft. Cardi B "Girls Like You"
Travis Scott "SICKO MODE"
XXXTENTACION "SAD!"
Top Selling Song
Cardi B, Bad Bunny & J Balvin "I Like It"
Drake "In My Feelings"
Halsey "Without Me"
Lady Gaga & Bradley Cooper "Shallow"
Maroon 5 ft. Cardi B "Girls Like You"
Top Radio Song
Khalid & Normani "Love Lies"
Maroon 5 ft. Cardi B "Girls Like You"
Post Malone "Better Now"
Bebe Rexha & Florida Georgia Line "Meant to Be"
Zedd, Maren Morris & Grey "The Middle"
Top Collaboration
Cardi B, Bad Bunny & J Balvin "I Like It"
Khalid & Normani "Love Lies"
Maroon 5 ft. Cardi B "Girls Like You"
Marshmello & Bastille "Happier"
Post Malone ft. Ty Dolla $ign "Psycho"
Continua depois da Publicidade
Top R&B Song
DJ Khaled ft. Justin Bieber, Chance The Rapper & Quavo "No Brainer"
Ella Mai "Boo'd Up"
Ella Mai "Trip"
Khalid "Better"
Lil Dicky ft. Chris Brown "Freaky Friday"
Top Rap Song
Cardi B, Bad Bunny & J Balvin "I Like It"
Drake "In My Feelings"
Juice WRLD "Lucid Dreams"
Post Malone "Better Now"
Travis Scott "SICKO MODE"
Top Country Song
Kane Brown "Heaven"
Luke Combs "She Got the Best of Me"
Dan + Shay "Speechless"
Dan + Shay "Tequila"
Bebe Rexha & Florida Georgia Line "Meant to Be"
Top Rock Song
Foster The People "Sit Next to Me"
Imagine Dragons "Natural"
Imagine Dragons "Whatever It Takes"
lovelytheband "broken"
Panic! At The Disco "High Hopes"
Top Latin Song
Bad Bunny ft. Drake "Mia"
Daddy Yankee "Dura"
DJ Snake ft. Selena Gomez, Ozuna & Cardi B "Taki Taki"
Nicky Jam & J Balvin "X"
Casper Magico, Nio Garcia, Darell, Nicky Jam, Bad Bunny & Ozuna "Te Bote"
Top Dance/Electronic Song
DJ Snake ft. Selena Gomez, Ozuna & Cardi B "Taki Taki"
Calvin Harris & Dua Lipa "One Kiss"
Marshmello & Bastille "Happier"
Tiësto & Dzeko ft. Preme & Post Malone "Jackie Chan"
Zedd, Maren Morris & Grey "The Middle"
Continua depois da Publicidade
Top Christian Song
Cory Asbury "Reckless Love"
Lauren Daigle "You Say"
for KING & COUNTRY "joy."
Hillsong Worship "Who You Say I Am"
Tauren Wells "Known"
Top Gospel Song
Todd Dulaney "Your Great Name"
Koryn Hawthorne "Won't He Do It"
Tori Kelly ft. Kirk Franklin "Never Alone"
Jason Nelson "Forever"
Brian Courtney Wilson "A Great Work"