Saudade de uma premiação, né, pessoal?! Pois podem se animar, porque neste domingo (30) acontece o "VMA 2020", transmitido diretamente do Barclays Center, em Nova York! Em meio à pandemia do coronavírus, o evento será um pouco diferente do habitual, com shows ao ar livre espalhados pelos cinco distritos da cidade — Bronx, Manhattan, Brooklyn, Queens e Staten Island. Seguindo medidas que respeitam as regras de distanciamento social, a presença de plateia será limitada ou até inexistente, em alguns casos.
A lista de performers já foi divulgada e está dando o que falar nas redes! Tudo isso porque Lady Gaga fará seu comeback aos palcos do "VMA" após sete anos, para divulgar a música "Rain On Me", juntinho com Ariana Grande! Será que veremos chuva de verdade caindo nelas durante a apresentação? Kkkk
Continua depois da Publicidade
Além da dupla, teremos também shows do grupo de k-pop BTS, que apresentará o single "Dynamite", e de Miley Cyrus, com seu recente lançamento, "Midnight Sky". Doja Cat, The Weeknd, Maluma, DaBaby, CNCO e Black Eyed Peas ainda integram esse timaço! Querem mais? A gente entrega! Chloe x Halle, Jack Harlow, Lewis Capaldi, Tate McRae e Machine Gun Kelly com Travis Barker e Blackbear também se apresentarão durante o pré-show! BAPHO!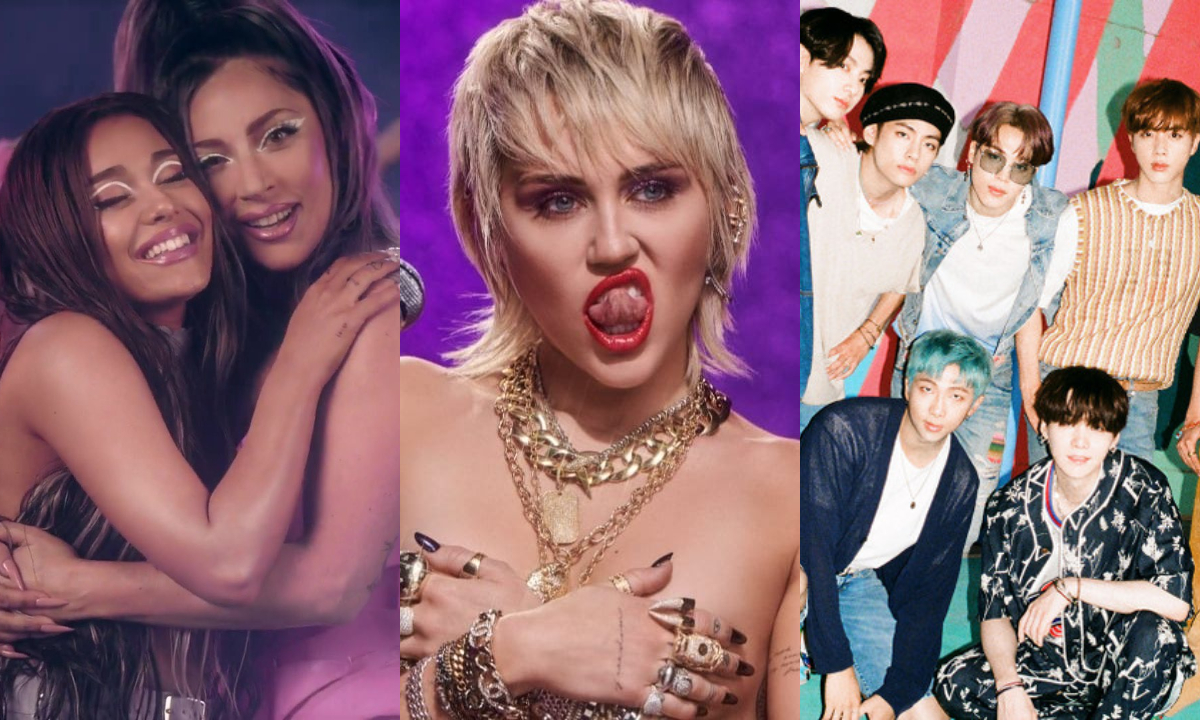 Claro que, além desses shows incríveis, teremos também a entrega de estatuetas! Ariana e Gaga lideram a disputa, com nove indicações cada! Só a faixa "Rain On Me" rendeu sete, incluindo de clipe e música do ano. Billie Eilish e The Weeknd também se destacaram entre os nomeados, sendo lembrados seis vezes cada um, seguidos por Taylor Swift, que concorre a cinco prêmios.
Se animou? Então confira abaixo o check-list com TUDO o que você precisa saber sobre o "VMA 2020":
O quê? Video Music Awards 2020!
Quando? Domingo, 30 de agosto. (Hoje!)
Que horas começa? A premiação começa às 21h (horário de Brasília). No Brasil, a transmissão fica a cargo da MTV, canal da TV fechada. Porém, é possível acompanhar tudo sobre o "VMA 2020" pela internet e pelas redes sociais do hugogloss.com!
E o pré-show? Às 19h30, na TV, internet e em nossas redes!
The 2020 #VMA Pre-Show starts…NOW❗️

Tune in now for performances by @chloexhalle, @jackharlow, @LewisCapaldi, @machinegunkelly, and @tatemcrae ?

The #VMAs start tonight at 8p on @MTV!
https://t.co/O6IBKH3Zma

— MTV (@MTV) August 30, 2020
Quem é o anfitrião da noite? A atriz, cantora e compositora Keke Palmer — mais conhecida por seu trabalho na série "True Jackson VP", da Nickelodeon — será responsável por comandar a cerimônia.
Quem entregará os prêmios? Kelly Clarkson, Drew Barrymore, Bebe Rexha, Bella Hadid, Jaden Smith, Joey King, Machine Gun Kelly, Madison Beer, Nicole Richie, Sofia Carson, Travis Barker (do grupo Blink-182) e Anthony Ramos, o astro do musical "Hamilton", foram alguns dos nomes confirmados.
Quem são os indicados?
CLIPE DO ANO
Billie Eilish – "everything i wanted" – Darkroom / Interscope Records
Eminem ft. Juice WRLD – "Godzilla" – Shady / Aftermath / Interscope Records
Future ft. Drake – "Life Is Good" – Epic Records / Freebandz
Lady Gaga with Ariana Grande – "Rain On Me" – Streamline / Interscope Records
Taylor Swift – "The Man" – Republic Records
The Weeknd – "Blinding Lights" – XO / Republic Records
ARTISTA DO ANO
DaBaby – SCMG / Interscope Records
Justin Bieber – RBMG / Def Jam
Lady Gaga – Streamline / Interscope Records
Megan Thee Stallion – 300 Entertainment
Post Malone – Republic Records
The Weeknd – XO / Republic Records
CANÇÃO DO ANO
Billie Eilish – "everything i wanted" – Darkroom / Interscope Records
Doja Cat – "Say So" – Kemosabe / RCA Records
Lady Gaga with Ariana Grande – "Rain On Me" – Streamline / Interscope Records
Megan Thee Stallion – "Savage" – 300 Entertainment
Post Malone – "Circles" – Republic Records
Roddy Ricch – "The Box" – Atlantic Records
MELHOR COLABORAÇÃO
Ariana Grande & Justin Bieber – "Stuck with U" – Republic Records / Def Jam
Black Eyed Peas ft. J Balvin – "RITMO (Bad Boys For Life)" – Epic Records / We The Best
Ed Sheeran ft. Khalid – "Beautiful People" – Atlantic Records
Future ft. Drake – "Life Is Good" – Epic Records / Freebandz
Karol G ft. Nicki Minaj – "Tusa" – Universal Music Latin Entertainment
Lady Gaga with Ariana Grande – "Rain On Me" – Streamline / Interscope Records
ARTISTA REVELAÇÃO
Doja Cat – Kemosabe / RCA Records
Jack Harlow – Generation Now / Atlantic Records
Lewis Capaldi – Capitol Records
Roddy Ricch – Atlantic Records
Tate McRae – RCA Records
YUNGBLUD – Locomotion Recordings / Geffen Records / Interscope Records
Continua depois da Publicidade
MELHOR CLIPE DE POP
BTS – "On" – Big Hit Entertainment
Halsey – "You should be sad" – Capitol Records
Jonas Brothers – "What a Man Gotta Do" – Republic Records
Justin Bieber ft. Quavo – "Intentions" – RBMG / Def Jam
Lady Gaga with Ariana Grande – "Rain On Me" – Streamline / Interscope Records
Taylor Swift – "Lover" – Republic Records
MELHOR CLIPE DE HIP-HOP
DaBaby – "BOP" – SCMG / Interscope Records
Eminem ft. Juice WRLD – "Godzilla" – Shady / Aftermath / Interscope Records
Future ft. Drake – "Life Is Good" – Epic Records / Freebandz
Megan Thee Stallion – "Savage" – 300 Entertainment
Roddy Ricch – "The Box" – Atlantic Records
Travis Scott – "HIGHEST IN THE ROOM" – Epic Records / Cactus Jack

BEST ROCK
blink-182 – "Happy Days" – Columbia Records
Coldplay – "Orphans" – Atlantic Records
Evanescence – "Wasted On You" – BMG
Fall Out Boy ft. Wyclef Jean – "Dear Future Self (Hands Up)" – Island Records
Green Day – "Oh Yeah!" – Reprise / Warner Records
The Killers – "Caution" – Island Records
MELHOR CLIPE ALTERNATIVO
The 1975 – "If You're Too Shy (Let Me Know)" – Dirty Hit / Interscope Records
All Time Low – "Some Kind Of Disaster" – Fueled By Ramen
FINNEAS – "Let's Fall in Love for the Night" – AWAL
Lana Del Rey – "Doin' Time" – Interscope Records
Machine Gun Kelly – "Bloody Valentine" – Bad Boy / Interscope Records
twenty one pilots – "Level of Concern" – Elektra Music Group / Fueled By Ramen
MELHOR CLIPE LATINO
Anuel AA ft. Daddy Yankee, Ozuna, Karol G & J Balvin – "China" – Real Hasta La Muerte
Bad Bunny – "Yo Perreo Sola" – Rimas Entertainment
Black Eyed Peas ft. Ozuna & J. Rey Soul – "MAMACITA" – Epic Records
J Balvin – "Amarillo" – Universal Music Latin Entertainment
Karol G ft. Nicki Minaj – "Tusa" – Universal Music Latin Entertainment
Maluma ft. J Balvin – "Queì Pena" – Sony Music Latin
MELHOR CLIPE R&B
Alicia Keys – "Underdog" – RCA Records
Chloe x Halle – "Do It" – Parkwood / Columbia Records
H.E.R. ft. YG – "Slide" – MBK / RCA Records
Khalid ft. Summer Walker – "Eleven" – Right Hand Music / RCA Records
Lizzo – "Cuz I Love You" – Atlantic Records
The Weeknd – "Blinding Lights" – XO / Republic Records
Continua depois da Publicidade
MELHOR CLIPE DE K-POP
(G)I-DLE – "Oh My God" – Republic Records
BTS – "On" – Big Hit Entertainment
EXO – "Obsession" – SM Entertainment
Monsta X – "SOMEONE'S SOMEONE" – Epic Records
Tomorrow X Together – "9 and Three Quarters (Run Away)" Republic Records
Red Velvet – "Psycho" – SM Entertainment
MELHOR CLIPE COM MENSAGEM SOCIAL
Anderson .Paak – "Lockdown" – 12 Tone Music Group
Billie Eilish – "all the good girls go to hell" – Darkroom / Interscope Records
Demi Lovato – "I Love Me" – Island Records
H.E.R. – "I Can't Breathe" – MBK / RCA Records
Lil Baby – "The Bigger Picture" – Quality Control Music / Motown / Capitol Music Group
Taylor Swift – "The Man" – Republic Records
MELHOR CLIPE FEITO EM CASA
5 Seconds of Summer – "Wildflower" – Interscope Records
Ariana Grande & Justin Bieber – "Stuck with U" – Republic Records / Def Jam
blink-182 – "Happy Days" – Columbia Records
Drake – "Toosie Slide" – OVO/Republic Records
John Legend – "Bigger Love" – Columbia Records
twenty one pilots – "Level of Concern" – Elektra Music Group / Fueled By Ramen
MELHOR PERFORMANCE DA QUARENTENA
Chloe & Halle – "Do It" from MTV's Prom-athon
CNCO – Unplugged At Home
DJ D-Nice – Club MTV presents #DanceTogether
John Legend – #togetherathome Concert Series
Lady Gaga – "Smile" from One World: Together At Home
Post Malone – Nirvana Tribute
MELHOR DIREÇÃO
Billie Eilish – "xanny" – Darkroom / Interscope Records – Directed by Billie Eilish
Doja Cat – "Say So" – Kemosabe / RCA Records – Directed by Hannah Lux Davis
Dua Lipa – "Don't Start Now" – Warner Records – Directed by Nabil
Harry Styles – "Adore You" – Columbia Records – Directed by Dave Meyers
Taylor Swift – "The Man" – Republic Records – Directed by Taylor Swift
The Weeknd – "Blinding Lights" – XO / Republic Records – Directed by Anton Tammi
Continua depois da Publicidade
MELHOR FOTOGRAFIA
5 Seconds of Summer – "Old Me" – Interscope Records – Cinematography by Kieran Fowler
Camila Cabello ft. DaBaby – "My Oh My" – Syco Music / Epic Records – Cinematography by Dave Meyers
Billie Eilish – "all the good girls go to hell" – Darkroom / Interscope Records – Cinematography by Christopher Probst
Katy Perry – "Harleys In Hawaii" – Capitol Records – Cinematography by Arnau Valls
Lady Gaga with Ariana Grande – "Rain On Me" – Streamline / Interscope Records – Cinematography by Thomas Kloss
The Weeknd – "Blinding Lights" – XO / Republic Records – Cinematography by Oliver Millar
MELHOR DIREÇÃO DE ARTE
A$AP Rocky – "Babushka Boi" – Polo Grounds Music / RCA Records – Art Direction by A$AP Rocky & Nadia Lee Cohen
Dua Lipa – "Physical" – Warner Records – Art Direction by Anna Colomeì Nogu ì
Harry Styles – "Adore You" – Columbia Records – Art Direction by Laura Ellis Cricks
Miley Cyrus – "Mother's Daughter" – RCA Records – Art Direction by Christian Stone
Selena Gomez – "Boyfriend" – Interscope Records – Art Direction by Tatiana Van Sauter
Taylor Swift – "Lover" – Republic Records – Art Direction by Ethan Tobman
MELHORES EFEITOS VISUAIS
Billie Eilish – "all the good girls go to hell" – Darkroom / Interscope Records – Visual Effects by Drive Studios
Demi Lovato – "I Love Me" – Island Records – Visual Effects by Hoody FX
Dua Lipa – "Physical" – Warner Records – Visual Effects by EIGHTY4
Harry Styles – "Adore You" – Columbia Records – Visual Effects by Mathematic
Lady Gaga with Ariana Grande – "Rain On Me" – Streamline / Interscope Records – Visual Effects by Ingenuity Studios
Travis Scott – "HIGHEST IN THE ROOM" – Epic Records / Cactus Jack – Visual Effects by ARTJAIL, SCISSOR FILMS & FRENDER
MELHOR COREOGRAFIA
BTS – "On" – Big Hit Entertainment – Choreography by Son Sung Deuk, Lee Ga Hun, Lee Byung Eun
CNCO & Natti Natasha – "Honey Boo" – Sony Music Latin / RCA Records – Choreography by Kyle Hanagami
DaBaby – "BOP" – SCMG / Interscope Records – Choreography by Dani Leigh and Cherry
Dua Lipa – "Physical" – Warner Records – Choreography by Charm La'Donna
Lady Gaga with Ariana Grande – "Rain On Me" – Streamline / Interscope Records – Choreography by Richy Jackson
Normani – "Motivation" – Keep Cool / RCA Records – Choreography by Sean Bankhead
MELHOR EDIÇÃO
Halsey – "Graveyard" – Capitol Records – Edited by Emilie Aubry, Janne Vartia & Tim Montana
James Blake – "Can't Believe the Way We Flow" – Republic Records – Edited by Frank Lebon
Lizzo – "Good As Hell" – Atlantic Records – Edited by Russell Santos & Sofia Kerpan
Miley Cyrus – "Mother's Daughter" – RCA Records – Edited by Alexandre Moors, Nuno Xico
ROSALIìA – "A Paleì" – Columbia Records – Edited by Andre Jones
The Weeknd – "Blinding Lights" – XO / Republic Records – Edited by Janne Vartia & Tim Montana